Reviews
Hommages Musicaux
Andrey Kasparov and Oksana Lutsyshyn's New CD
Hommages Musicaux (Albany Records, TROY922, released in 2007) features Norfolk's own Invencia Piano Duo, Oksana Lutsyshyn and Andrey Kasparov, who present us with a bouquet of nuanced, energetic French piano works. Tombeau de Claude Debussy can loosely be translated as "Music Honoring the Memory of Claude Debussy" and is a set of ten pieces, each by a different composer. When Debussy died in 1918, Revue Musicale, the foremost music publication in Paris, commissioned these pieces from leading European composers to eulogize him. Each composer chose a personal way of honoring Debussy and the relationship they shared. These details are in the clear notes in the CD booklet, written by Dr. Kasparov.
Kasparov, on solo piano, was featured in seven of the ten pieces commemorating Debussy.The CD opens with a gentle, spare, even tempered piece by Paul Dukas (1865-1935) and travels over a varied emotional range. Eugene Goosens (1899-1962) called his piece A Claudio Debussy. It has a painfully sad opening and becomes edgier as the musical line struggles for a resolution that will not come. There is a mysterious feeling in the Bartók. Two Chicago musicians, violinist Desirée Ruhstrat and cellist David Cunliffe beautifully played Maurice Ravel's scintillating but somber Duo pour Violine et Violoncelle. His creation is emotionally evocative, revealing his sense of loss.
The other tracks feature Timothy Olbrych on guitar playing music by Manuel de Falla and a brief but lovely song by Erik Satie sung by Lisa Relaford Coston with Kasparov at the piano. Other twentieth century composers are featured, including Stravinsky, Roussel and Malipiero .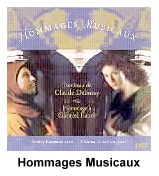 A second set, Hommage à Gabriel Fauré: Seven Pieces on the Name of Fauré, fills out this hour-long CD with Oksana Lutsyshyn as solo pianist in four pieces. After the success of the Debussy tribute the editor, Henry Prunières, of the Revue Musicale came up with the idea ot honoring the elderly, living composer Gabriel Fauré. The seven pieces were published in 1922 and six were by Fauré's fellow French composers. Pavel Ilysahov on violin joins Ms. Lutsyshyn for the opening Berceuse sur le nom de Gabriel Fauré by Ravel. It is short, lovely, moody music as is the second selection by Romanian composer George Enescu (1881-1955) for solo piano. Louis Aubert (1877-1968) uses a conventional piano language as does Florent Schmitt (1870-1958) but his piece is more dramatic. My favorite solo piano piece is the spirited cutting-capers dancing music by Paul Ladmirault (1877-1944).
Our married piano duo brought to life the very French sounding, moody fourhands piece by Jean Roger-Ducasse (1873-1954) and Paul Koechlin's (1867-1950) brief piece with feeling, balance and accuracy.
The CD cover art is a collage by Scott Williams. The duo's faces appear on figures by Spanish artist Francisco de Zurbarán (1598-1664). Kasparov is in a monk's habit looking pious and Lutsyshyn is the beautiful, innocent damsel before a background of Ricolletto Cemetery in Buenos Aires. Only her beauty is true.

Lutsyshyn and Kasparov Play
Adolphus Hailstork's Piano Works on New CD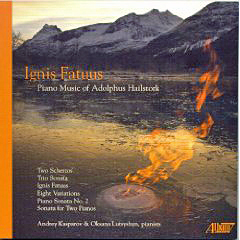 Composer Adolphus Hailstork's piano music is available on a new CD from Albany Records titled Ignis Fatuus, Piano Music of Adolphus Hailstork (Troy 1112). Ignis fatuus, which means "foolish or mysterious fire" is a fourteen minute composition written in 1976 played by Oksana Lutsyshyn. Hailstork said recently "I was then, and still am, a fan of the piano music of Maurice Ravel. I wanted to see if I could write some piano piece that sounded delicate and colorful." The image created in my mind as I listened was of a flowing brook. At times the water gushes over stones, drops down little eddies and always sparkles. The overall mood is gentle, soothing and intriguing. In the third movement - Vivace allegretto, the pace quickens, only to slow once again, lulling me back to relaxation until the quirky little ending.
On November 10, 2007, the performers, Invencia Piano Duo: Oksana Lutsyshyn and Andrey Kasparov, gave a recital at Chandler Recital Hall at Old Dominion University in Norfolk, Virginia of the piano pieces that can be found on this CD. Fortunately we were in the audience, though until now I never got around to writing the planned review.
The CD opens with Two Scherzos written for Dr. Karen Alwyn who recorded Hailstork's Piano Sonata No. 1 for Albany Records' Dark Fires 20th Century Music for Piano CD (Troy 266), 1998. The modern musical language in the first Scherzo is woven around a boogie-boogie base with intense, powerful energy after a repeated quiet figure opening. The second Scherzo has a freer form with brief quiet passages contrasted with sections of grand pianism with many quick notes. Kasparov plays this spiky, showy music with clarity and precision.
In the Trio Sonata from 1991, Hailstork organically incorporates musical influences by the Impressionist and American composers in a set of free variation on a simple Copland melody as a tribute to three New York composers: Virgil Thompson, Leonard Bernstein and Copland. There is a grandeur in the simplicity captured most charmingly by Oksana Lutsyshyn, the pianist in the eight-minute, one-movement solo piece. It has a lovely, quiet last few minutes.
Eight Variations on "Shalom Chaverim" was composed as a prelude for services at the local Unitarian Universalist church where the composer was choir director. He found the lovely melody in the hymnal. The mood of the variations ranges from quiet and gentle to boisterous, offering a challenge of interpretation to Kasparov who plays both this piece and the Piano Sonata No. 2 (1989) that follows on the CD. The musical language of the Sonata is modern, even briefly strident in four movements. In the second, Allegro con brio, we hear a brief section that is not a quote but rather a recapitulation of the structure of Rhapsody in Blue. The bold, slow pace in the third, Molto adagio, movement feels serious, troubled, even pensive. A faint reference to a spiritual tune is so brief that it increases the agony when it does not materialize. The final movement, Misterioso allegro, demands great power but with calculated precision because of the measured pace. Kasparov's technical and interpretative skills shine through, especially when speed and intensity increase, demanding controlled power through a quirky ending.
Sonata for Two Pianos (1987) opens with a volley of fast notes with the second piano punctuating the soundscape. This gives way to dry precision that is slower and less dense. The second movement, Adagietto ma non troppo (slow but not too slow) is close to lyrical from time-to-time. The composer has written that his goal was to blend African-American elements (blues, spirituals) with Euro-American elements (dissonant harmony and classical structures) using uneven meters. For instance : 11/16 in the final "Vivace (third) movement.
As an experiment in composition, the last movement is most successful in meeting the stated goal. The performance by Invencia Piano Duo seems definitive. Lutsyshyn and Kasparov offer the listener polished and perfectly coordinated playing. My advice is to regard as an adventure this demanding piece and grow into it. The other pieces found on this excellent CD will lead you there. I would be interested in hearing other listeners' reactions to Sonata for Two Pianos. The recorded sound is excellent.

Schmitt, Complete Original Works for Piano Duet and Duo, Vol. 1
The Invencia Piano Duo, Naxos GP 621, 2012
Review by M.D. Ridge
Few pleasures can compare with hearing unfamiliar music superbly played by an extraordinary pair of musicians, the Invencia Piano Duo. The husband-and-wife team of Andrey Kasparov and Oksana Lutsyshyn are well known for unusual programming and daring performances. Their new Naxos recording of music by early 20th-century French composer Florent Schmitt is hypnotically charming, with familiar harmonic language and rhythms used in surprising ways.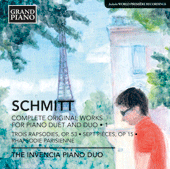 There are two world premiere recordings on this first of four Naxos CDs that will eventually comprise all of Schmitt's works for piano duo and duet. Sept Pièces, Op. 15, for Piano 4-Hands has not previously been recorded. An unpublished work, Rhapsodie Parisienne, has been recorded with permission of the composer's granddaughter, Mme. Annie Schmitt; it received its American premiere in Culpeper, Virginia in March 2011.
The very Impressionistic Trois Rapsodies, Op. 53, for two pianos, draws the listener into a reverie as the two pianos seem to waltz together in an elegant pas de deux. The pianos are precise but always fluid, with delicately nuanced dynamics. In the pieces, entitled Francaise, Polonaise and Viennoise, there are undertones of unsettling drama that bring energy to the dreamlike melodic writing.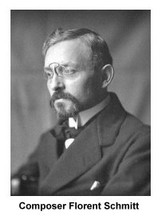 The brief works (none longer than four and a half minutes) of Sept Pièces, Op. 15, describe various moods from somnolence to brilliance, from a girl's wishes to a medieval castle. One has falling petals of sound, another the delicacy of spider silk and the tensile strength of finely drawn steel, still another a wistful charm.
The bright, lively, rhythmically changing Rhapsodie Parisienne (1900) has a wonderful sense of period, with sure technique and confident ornamentation that is integral, not just twiddly bits. Scored for piano 4-hands, the Invencia Duo has recorded it on two pianos, the better to bring out its energy and drama.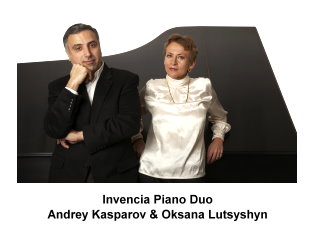 Born in different parts of the former Soviet Union, Kasparov and Lutsyshyn studied at the Moscow State Conservatory, with advanced studies at Indiana University School of Music in Bloomington. In 1997, the couple moved to Norfolk, Virginia, where they are on the music faculty of Old Dominion University (where the Schmitt CD was recorded), and also serve as Artistic Co-Directors of the Norfolk Chamber Consort. Each has won several prestigious awards.
This very accessible recording has admirably clear, informative liner notes by Jerry E. Rife and Kasparov. Casual listeners will find Schmitt's music pleasingly attractive, while more knowledgeable listeners will find subtlety, drama and beauty in every selection.
See the NAXOS Invencia page at http://www.naxos.com/person/Invencia_Piano_Duo/97918.htm
More Invencia CD Reviews

Printer Friendly Format
Back to Top
Back to Review Index
Home &nbspCalendar &nbspAnnouncements &nbspIssues &nbspReviews &nbspArticles Contact Us