The Premiere of Lori Laitman's Long Pond Revisited
&nbsp&nbsp&nbsp&nbsp&nbsp This piece, Long Pond Revisited, is a setting of five elegiac poems by C.R.G.Shepard for voice and cello. The world premiere was at the Kennedy Center's Terrace Theatre on January 18, 2003. Baritone Randall Scarlatta was the soloist. Scarlatta was in Tidewater in November as Scrooge in Virginia Opera's presentation of Thea Musgrave's A Christmas Carol.
&nbsp&nbsp&nbsp&nbsp&nbsp Tim Page gave a glowing review of the recital in the Washington Post. "He [Scarlatta] brought daffy childlike bewilderment to Laitman's Men With Small Heads and Refrigerator (1957)" two other songs on the program. Page continues: "The World premier of Laitman's Long Pond Revisited was a melancholy pleasure ... The words are declaimed in a direct and straightforward manner, while the cello follows the voice like an abstracted soul, reacting inwardly to the outward expressions of nostalgia and sorrow. The ending was nothing less than a masterstroke: After the last words had finished, the cello twitched on for a moment and then faded to an empty, nerveless open chord, and it was over...in an instant the loved one is gone, the poetry is lost and the world is gray."
&nbsp&nbsp&nbsp&nbsp&nbsp The recital was presented by the Vocal Arts Society and the cellist was Marcy Rosen. The Terrace Theatre seats 500.
Lori Laitman's Wonderful New CD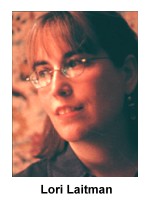 &nbsp&nbsp&nbsp&nbsp&nbsp "All night the dark buds of dreams open richly." This opening of the poem Dream by Mary Oliver is a perfect description of what Lori Laitman is about in her new CD Dreaming.
&nbsp&nbsp&nbsp&nbsp&nbsp The cover picture is of a round-faced child asleep, hand under pillow, with dark cascading hair and lips slightly open, breathing peacefully. The photo credit is by Milton Laitman and was taken in 1959 when Lori was four. But the thirty art songs here are not about slumber, but rather an exploration of the complex facets of life explored by our dreaming consciousness. Brought forth and presented to our waking selves, these images can enhance our awareness and compassion. There is a naturalness in Ms. Laitman's way of setting texts, the flow of American speech patterns enhanced by colorful and intriguing music that is easy on the ear. The settings help us understand with our minds and feel with our hearts the message the poets have to offer.
&nbsp&nbsp&nbsp&nbsp&nbsp These songs reassure us that the art of art song is alive and well in America today. Released in 2003, Dreaming - The Songs of Lori Laitman is on Albany Records (Troy 570). For these thirty songs she has selected poetry by several women: Emily Dickinson (7), Sara Teasdale (5), Mary Oliver (3), and Elinor Wylie (1). The composer shares insightful, pertinent notes in the CD booklet and complete texts.
&nbsp&nbsp&nbsp&nbsp&nbsp Ms. Laitman has been declared an outstanding composer by the National Association of Teachers of Singing (NATS), "shoulder to shoulder with Ned Rorem" who is one of America's most prolific song composers. She does well something he has declined to do, and that is set the poetry of Emily Dickinson. Rorem likes to set poetry with long metrical lines, not the "jaggedly, disjointed lines" as he described Dickinson's poetry when commenting on Aaron Copland's settings in his book Knowing When to Stop.
&nbsp&nbsp&nbsp&nbsp&nbsp How is it that Ms. Laitman sets these texts so well when Mr. Rorem wouldn't even attempt them? Is it because she is also a woman? What I know is that the settings of Dickinson in two songs cycles, Four Dickinson Songs: Will There Really Be A Morning?, I'm Nobody, She Died and If I… and Between Bliss and Me: I Gained it So…, A Book, I Could not Prove, are very enjoyable. The composer repeats words and phrases as she pleases and thus gives a weight and balance that makes these brief pithy commentaries on life work as fully fleshed-out songs. Whimsical and fun, or pathetic and sad as required.
&nbsp&nbsp&nbsp&nbsp&nbsp The magic of her settings becomes very clear when you contrast the lyrical Romantic poetry of Sara Teasdale in the cycle The Years with the settings of Emily Dickinson. When I enquired "to what do you attribute your success as an art song composer?" Ms. Laitman replied: "I have an instinctual feel for setting words to music and my music is very lyrical . I always treat the words with the utmost respect. All of my ideas stem from the text -- I never cram words into a musical phrase, but always structure the phrase so that the words are set to their best advantage." An example: in A Book from the Dickinson cycle Between the Bliss and Me she sets the word "liberty" embroidered with vocal filigree to highlight its importance in "He danced along the dingy Days/and this Bequest of Wings/Was but a book - What Liberty/ a loosened spirit brings-".
&nbsp&nbsp&nbsp&nbsp&nbsp Thinking about the question of how Ms. Laitman's songs are different from Mr. Rorem's, I spent several hours listening to CDs and this is what I found. The Laitman settings are centered on the sense and meaning of the words. The emotional range of the poetry dictates the musical language. Rorem's settings are grander, more emotionally remote. They are tied to the rhythms of the poetry, rather than the words. Laitman's expression of emotion is as wide-ranging as the poets'. Rorem is, by comparison, somber with a melancholic sadness underlying the emotional palette of his settings.
&nbsp&nbsp&nbsp&nbsp&nbsp The contemporary poetry of Thomas Lux used in the song cycle Men with Small Heads does not easily trip off of one's tongue when read aloud. Introduced to her by her daughter as one of her favorite poets, Ms. Laitman has written in the CD booklet "I thought the text might be impossible to set to music. However as I delved further into Mr. Lux's poems I came to appreciate their incredible structure, and my imagination ran wild."
&nbsp&nbsp&nbsp&nbsp&nbsp The title song of the cycle, Men With Small Heads, gently explores some absurdities observed by a young child in the 1950s and reflected on by the adult poet. The child "saw small heads" on some adults in his world, symbolic of the narrow minds inside normal-sized heads - something like today in America. The piano quotation of America the Beautiful at the end of the song is intentional. Randall Scarlata, baritone, accompanied by the composer, brings the text to life in this and the other songs: Refrigerator, 1957, (to my ear an instant classic of American art song; the child explores the iconography of a jar of maraschino cherries), A Small Tin Parrot Pin, and Snake Lake. His diction is laser sharp and the humor and nostalgia is warmly communicated. Mr. Scarlata is familiar to Tidewater audiences, having played Scrooge in Virginia Opera's production of Thea Musgrave's A Christmas Carol in November, 2002.
&nbsp&nbsp&nbsp&nbsp&nbsp With the composer at the piano, gentle poems of nature are offered by soprano Sari Gruber in a three-song cycle Sunflowers (poems by Mary Oliver) and Little Elegy, (poems by Elinor Wylie). Jennifer Check sings both Dickinson cycles. Both singers are excellent.
&nbsp&nbsp&nbsp&nbsp&nbsp The longest cycle, Holocaust, 1944, contains seven songs by several poets, both male and female, and is very powerful music. Written for the darker timbres of a baritone voice and a double bass, the poetry plumbs the feelings of survivors. William Sharp is the eloquent vocalist and Gary Karr, for whom the piece was written, is passionate and deeply moving on the double-bass. Both Your Mothers by Jerzy Ficowski (translated by Keith Bosley), is the story of a child smuggled out of the Warsaw Ghetto in a cart-load of bricks while the mother stayed behind, and of the woman who rescued him from orphanhood, his second mother. In Race a Jew speaks to the issue of making an effort not to learn from his German neighbors: "I will not make their thoughts my own by hating people for their race." The poet is Karen Gershon of England.
&nbsp&nbsp&nbsp&nbsp&nbsp Perhaps the darkest of the songs is the title song, Holocaust 1944 with poetry by Anne Ranasinghe of Sri Lanka, dedicated to her mother. The poet paints a verbal picture, a grave she knows not of and the "frost-blue December morning" when it happened. There was no martyrdom, only the futility of dying. "The end of nothing and the beginning of nothing." The low groan of the double-bass notes carry such weight. Paired with the baritone voice, the beauty and pathos is almost unbearable.
&nbsp&nbsp&nbsp&nbsp&nbsp Many of us know Warren Jones as an excellent pianist from his many art song CDs. Here he performs the Dickinson songs as well as the cycles The Years, on poetry by Sara Teasdale and sung by Patricia Green; Plums on two poems by William Carlos Williams; and Dreaming, with precision and flair. The final selection, with text by the composer, is a duet about singers desiring rave reviews. Mr. Scarlatta and Jennifer Check gave the CD a rousing sendoff - a fine encore to this musical journey.
Laitman's Art Songs Become an Opera
&nbsp&nbsp&nbsp&nbsp&nbsp On June 9 -13 Cleveland Opera presented Come to Me in Dreams, a one-act opera made up of fifteen songs tied together with a storyline by David Bamberger, Cleveland Opera's retiring general director. The first song, I Did Not Manage to Save, explores the emptiness, confusion and silence of a male Holocaust survivor who was not able to protect his family, while he survived. The father's (baritone) four songs drawn from the cycle Holocaust 1944 are accompanied by double-bass, the wife's (soprano) four songs, drawn from The Years by Sara Teasdale, are accompanied by piano, the child (light soprano) accompanied by saxophone, received an enthusiastic review in The Cleveland Plain Dealer of June 10. The critic, Donald Rosenberg, wrote "Sanford Sylvan's luxurious baritone and dramatic sincerity illuminated the survivor's journey. Fenelon Lamb's wife abounds in allure and sympathy, while Megan Tillman melds charm with compassion as the lost child and Sarah Renea Rucker is graceful in the non-speaking role of the surviving child."
&nbsp&nbsp&nbsp&nbsp&nbsp The child's music is drawn from Ms. Laitman's first CD, Mystery, also on Albany (Troy 570). The cycle I Never Saw Another Butterfly is on six poems written by children from the Terezin concentration camp. Ms. Laitman has written "One cannot help but be touched by the hope and innocence these children put in their poetry despite their terrible surroundings." This is work and music of heartbreak but with the innocence and enthusiasm of a child. The lesson here is reflection on these terrible events is harder, more demanding on adults than living through them was for a child who had only his own experience and never lost hope.
&nbsp&nbsp&nbsp&nbsp&nbsp The order of the songs in the opera is as follows and can be reconstructed to some extent from combining songs from both of Ms. Laitman's CDs Dreaming and Mystery although not with the correct transpositions or the new ending of Echo (text by Christina Rossetti). When piano, saxophone and double bass merge for the only time in this final song, a sense of closure can be felt.

I Did Not Manage to Save, Faults, Yes That's the Way Things Are, To-Night, Birdsong, Massacre of the Boys, Wild Nights (text by Emily Dickinson), The Butterfly, The Years, Oh, I Remember you my dearest (excerpt from Holocaust 1944 song), Man Proposes, God Disposes, Jewel, The Garden, Both Your Mothers, Echo.
Printer Friendly Format
More Lori Laitman
Back to Top
Back to Review Index
Home &nbspCalendar &nbspAnnouncements &nbspIssues &nbspReviews &nbspArticles Contact Us