Emily Stauch's Poèms d'Amour
&nbsp&nbsp&nbsp&nbsp&nbsp Soprano Emily Stauch regaled us with a sumptuous feast of songs of love at Prince of Peace Lutheran Church, January 21, 2007. Charles Woodward at the piano created a musical frame for her voice in Hector Berlioz (1803 -1869) Les Nuits d'eté, Op. 7 (Summer Nights). The six songs demonstrated how deeply sensitive Berlioz is to poetry's expressive content . Since they were not commissioned by anyone, these poems by his personal friend, Théophile Gautier, may have been set because they reflect the emotional tribulations in his life at that time . Their concentrated mood of longing with an atmosphere of perfumed summer nights creates a beauty and intensity that was spellbinding through all six songs with their ravishing melodies.
&nbsp&nbsp&nbsp&nbsp&nbsp Ms. Stauch sings with a surety of her vocal gift. She came out, stood with a confident and poised carriage and poured forth beautiful sound song after song. Her diction was clear, her French is accomplished and her voice conveys all the refined sensuousness of Berlioz's music.
&nbsp&nbsp&nbsp&nbsp&nbsp Written in 1840 for piano and voice, Berlioz's later orchestration of this cycle is now the familiar version. The instruments of the orchestra add much color to this nobly sentimental and graceful music. Here the piano accompaniment is modest leaving the voice as focus. The first song, Vilanelle (Country Song) is about spring and the blossoming of love - a most happy event. Le spectre de la rose (The specter of the rose). recalls the lovely maiden who wore a rose to the ball. Now withered, the rose is recalled. The vocal line is operatic in each of three sections. Each opens with a cantabile passage only to become fragmented and uneven as the mood of the poetry intensifies. Then a detached, brooding quality develops in the third section where the ending is tender and enfolding, "here lies a rose that every king might envy."
&nbsp&nbsp&nbsp&nbsp&nbsp Sur les lagunes: Lamento (On the lagoons) is a bitter lament, "My beloved is dead, I will weep forever." Each verse ends with a passionate, desparing exclamation. Superbly sung, and thus disturbing. In L'Absence the sense of longing continues the great unappeased desire of the earlier song. In Au cimetière (In the cemetery) the moon rises on a lone dove. A song of young love has dulled with time. The grief is more somber, restrained. Resignation!
&nbsp&nbsp&nbsp&nbsp&nbsp The final song, L'île inconnue (The undiscovered island) returns to the free-spirited tone of the first song. A sailor teases a pretty girl to join him in his travels but only if she can offer eternal love. She shrugs and passion wanes as the voice dies away over a dancing piano.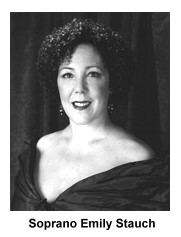 &nbsp&nbsp&nbsp&nbsp&nbsp The second half of the recital featured songs by Franz Liszt (1811-1886) with some French lyrics. Here the pianist becomes an equal partner in creating the atmosphere of these sentimental lyric songs. The poetry is more generalized in tone, beautiful but not so personally intense. Although setting French poetry, Liszt writes in the fashion of German lied. The emotionalism is more on the surface without the subtlety of Berlioz. Ms. Stauch sang as one possessed by her muse. The seamless communication between pianist and singer was evident from the first song S'il est un charmant gazon (If there is a charming lawn). Also a setting of poetry by Victor Hugo,Oh! quand je dors (Oh When I Slumber) with its exquisite melody is Liszt's best known song. Ms. Stauch sang the flowing vocal phrases sensuously. The piano figures are equally romantic and emotionally moving.
&nbsp&nbsp&nbsp&nbsp&nbsp The last three songs, Freudvoll und leidvoll (Joyful and Sorrowful), Hohe Liebe (Sublime Love) and O lieb' (O Love) are in German. Our singer displayed stunning operatic vocalism with effortless leaps and high notes. The urgency of the text is reflected by the urgency in voice and piano.
&nbsp&nbsp&nbsp&nbsp&nbsp The passionate encore was from Faust by Gounod. The Jewel Song is the only selection we heard that is not on her 2007 CD. The recording seems to have been made in a large, open hall and the sound is less focused than on your average CD. But the passionate singing is all there but if you have the chance, hear this recital live.

Pianist Gary Barnett presents Lesser Known
20th Century Russian and Early Soviet Composers

Dr. Andrey Kasparov
Associate Professor of Music
Old Dominion University
&nbsp&nbsp&nbsp&nbsp&nbsp On Sunday evening, April 22, 2007, the Prince of Peace Lutheran Church Concert Series hosted a recital with the American pianist Gary Barnett. The program included Russian and Soviet piano music spanning the first three decades of the 20th Century. The opening piece was a one-movement Sonata in E flat minor by Alexei Stanchinsky (1888-1914). Although conceived in the late Romantic Scriabinesque style of Russian polyphonic piano music prevalent at the turn of the 20th century, this composition introduces a few harmonic and textural "surprises," revealing the individuality of the composer. Stanchinsky's later musical style changed from his early romantic leanings to a more individualized compositional language and texture, especially in his search for "pure" polyphony. The young composer died tragically at a very early age in an accident near a friend's estate after years of suffering from schizophrenia and depression.
&nbsp&nbsp&nbsp&nbsp&nbsp The oeuvre by Isai Dobrowen (1891-1953) is rather small due to the fact that his career was mostly centered around conducting and concertizing as a pianist. As kindly described by Barnett, Dobrowen might be considered the "other" Rachmaninoff. Indeed, Dobrowen's early work, Youth Sonata , Op. 15, revealed the unmistakable influence of Rachmaninoff, albeit with much more dense contrapuntal textures throughout the work. Barnett's playing displayed strong technical command, as well as wonderful nuances, intricate shadings, and a long-line phrasing of this richly melodic work.
&nbsp&nbsp&nbsp&nbsp&nbsp Alexander Krein (1883-1951), a Russian-Jewish composer, grew up in a family of musicians. Krein's prodigious talents as a violinist and composer were fostered by his father, who collected rare Jewish musical manuscripts and folk songs. One of the works featured in this recital, Two Poems, was characteristic of Krein's intrinsic melodic talent. It combines his penchant for Ravel-like tertian chords, his nostalgic moods and frequent emotional outbursts. Barnett captured the contrasting pianissimo of the impressionistic sections with grace and sensitive lyricism.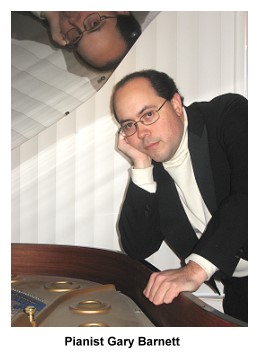 &nbsp&nbsp&nbsp&nbsp&nbsp Arthur Lourier (1892-1966), an upstart and composer, was Soviet Russia's first state music minister but cut a very controversial figure in the early Soviet musical era. An influential music personality, Lourie greatly impacted a number of important composers, including Igor Stravinsky. Initially, his compositional style drew upon popular Avant-garde trends of the early 20th century, such as serialism and microtones, but it eventually evolved into a more accessible and tonal idiom. His experimental piece, Forms in the Air, is primarily based on the graphic design of the score and is dedicated to Pablo Picasso. He resigned as music minister due to persecution for his earlier uses of "decadent" Western trends. Ultimately, Lourier permanently settled in the United States, where his musical style ironically shifted to impressionism, tonality, and sacred choral music. Lourier once wrote, "The European conscience was born of Christianity. Music, for centuries, has drawn for its nourishment exclusively upon Christian sources. Today, if these sources are dried up, music will die in Europe. Where there has appeared a break with Christianity there has immediately and infallibly occurred a breakdown in music. The most characteristic phenomenon of our time is the fact that art manifests itself only in the aspect of evil and ugliness. Diabolic ugliness is the only esthetic reality of our epoch." As part of this program, Barnett performed Shalost , the last composition in a five-piece Piano Suite typifying various tendencies of Lourier's impressionistic period during his travels throughout Europe and the United States. The title of this piece translates from Russian as "mischief," and this reflects its unpredictable colors and textural/harmonic juxtapositions. The work ends with a dreamy coda featuring widely spaced sonorities and expanded melodic lines.
&nbsp&nbsp&nbsp&nbsp&nbsp In 1940, four piano preludes were discovered in the Scriabin State Museum in Moscow and attributed to Alexander's son Julian (1908-1919). The second of the three children born to Scriabin's second wife, Tatiana Scholoezer, the young Julian was known as one of the great virtuoso prodigies of his time and often performed his father's piano music. In this period came the completion and publishing of his father's Poem of Ecstasy . Barnett pointed out that some scholars and pianists have argued that these four preludes could not have been the work of an eleven-year-old boy, but were actually composed by the father while Julian was still in his mother's womb! An experienced ear, however, could identify some sonorities, as for instance C Major triads in the first prelude, atypical of the father's compositional style of that period. In addition, Reinhold Gliere, a renowned Russian composer, attested to the fact that these works were indeed by the young prodigy who died tragically in a drowning accident in the Dnieper River near Kiev.
&nbsp&nbsp&nbsp&nbsp&nbsp One of Russia's most innovative twentieth century composers, Alexander Mosolov (1900-1973), has been sadly neglected. A prolific composer of orchestral, vocal and piano music, Mosolov witnessed the changes from Tsarist Russia through several Russian revolutions and coups d'état. He began his career as a loyal Soviet man volunteering for the Red Army. Yet shortly thereafter, he encountered serious problems due to his unique compositional style, which was despised by Soviet authorities and critics. One critic condemned Mosolov's music, stating that "There is no organized will to victory, in fact very little besides petty-bourgeois anarchy." But Mosolov had friends and allies such as Nikolai Myaskovsky and Gliere, who used their influence to reduce his eight-year sentence in a forced-labor camp to just under a year. Mosolov's monumental Fifth Sonata is a powerful testament to the musical and political troubles of the 1920's. It doesn't compare to the great piano masterpieces of the twentieth century, as it lacks the finesse of sonic and textural design. But this work nevertheless makes some powerful statements by using lapidary phrase structures and multilayered textures and sonorities.
&nbsp&nbsp&nbsp&nbsp&nbsp After several curtain calls at the conclusion of the recital, Barnett spoke briefly to the audience about his recent travels in Armenia. He then performed an encore, Vocalise by Armenian composer Aram Khachaturian. Completed shortly before the composer's death, this introspective lyrical transcription of Desdemona's Vocalise from the incidental music to the film Othello (1955) provided a meditative after-word to the predominantly virtuosic and intense repertoire of the recital.
&nbsp&nbsp&nbsp&nbsp&nbsp It was indeed a unique treat to hear a piano recital consisting entirely of rarely-heard works of such startling and austere beauty. Barnett's control of the keyboard, musical flow, and lyrical gifts are well suited to the diversity of pieces on this program.

Back to Top
Review Index
Printer Friendly Format
More Prince of Peace
Home &nbspCalendar &nbspAnnouncements &nbspIssues &nbspReviews &nbspArticles Contact Us