Images of Women in Art and Music
Presented by Pianist Lee Jordan Anders
On September 20, 2010 at Hofheimer Theater Lee Jordan-Anders, professor of music at Virginia Wesleyan College, played a live recital of music with projected images of paintings from the Chrysler Museum of Art in Norfolk, Virginia. As a culmination of a long-term collaborative project, the recital was a polished presentation of images linked to music in the creative imagination of Ms. Jordan-Anders who is also Artist-in-Residence at Virginia Wesleyan.
On the surface the evening was a pleasant one of mostly pretty pictures and well-played music. I would suggest that under this pleasant surface something revolutionary was being presented. Edgar Degas' painting Dancer with Bouquets was paired with the Claude Debussy Dance. In the painting a pretty young woman explores her creativity expressed through her well-trained body. In the background a lake and mountains add another dimension to a subject Degas painted many times but usually depicted in the studio.
Musically, the second section was the most interesting to me. A series of paintings by 15th and 16th century Dutch and Italian painters of Madonna and Child were paired with 20th century composer Olivier Messiaen Regard de la Vierge from Vingt Regards sur l'Enfant Jesus. It has a tentative energy that is always moving but never quite reaching a place of rest. Recurring themes in the music were paired with paintings we had already seen, reappearing on the screen.
Paired with Sonata in G Major, K. 545 by Domenico Scarlatti, a Baroque era painting, Musical Group, has male performers with a woman at the harpsichord. A portrait of mother and daughter playing a spinet was paired with Mozart Variations on the 18th century French folksong Ah, vous dirai-je Maman! Up to this point we have seen women as dancers and musicians but all the painters and composers are men.
The next section presented a huge step forward for female creative expression. The painting by Paula Modersohn Becker (1876-1907), born in Dresden, is the somber, disturbing Girl with a Baby Among Birch Trees and was paired with Scherzo in C minor, Opus 14 by Clara Wieck Schumann (1819-1896). The Paula Modersohn-Becker Museum opened in 1927 as the first museum ever devoted to the works of a woman. The trees in her birch forest partially hide other figures or objects, creating an ominous feeling. As her talent blossomed she went to Paris to study and married while there. She died in childbirth at age 31.
Clara Wieck concertized from age 9, groomed and encouraged by her father. In her diary as early as 1839 she wrote "I once thought that I possessed creative talent, but I have given up this idea; a woman must not desire to compose – not one has been able to do it, and why should I expect to do so? It would be arrogance, although, indeed my father led me into it in earlier days." (Grove Dictionary, 1980.) The reality is that her best works came later. The Scherzo we heard was from 1845, written the year after the birth of her third child (she eventually birthed 8) and her first successful concert tour of Russia. Papa Wieck opposed her marriage to Robert Schumann and it took winning a court battle to make it happen in 1840. She was 21. Robert wanted quiet to compose which got in the way of her composing and practicing for concerts. There was a household to run and in time more and more children. A few months before Robert lost his mind and had to be hospitalized the Schumann's met Johannes Brahms (September 1853). Robert died in the asylum in 1856 and with Brahms watching over the household Clara concertized in England later that year, returning there sixteen times. She performed frequently and extensively until 1891. She taught piano at the conservatory in Frankfurt, helped prepare the complete edition of Robert's works and an edition of his letters while promoting works by Brahms and Schumann in concerts. It is no surprise that her compositions are few in number and only recently has her music had a fair hearing by a wide, classical audience.
Coming next and letting us catch our collective breath was a more conventional painting of two pretty, young girls, The Daughters of Durand-Ruel by Renoir linked to Debussy Girl with the Flaxen Hair from Preludes Book 1 and Sérénades for the Doll from Children's Corner paired with Une Japonaise (The Language of the Fan) by Jules Joseph Lefebvre (1836-1911).
Plunging once again into challenging material, Ms. Jordan-Anders played Ravel Pavane for a Dead Princess paired with Paul Gauguin The Loss of Virginity. The notion of protected and cherished women and children is shattered. We see a pale nude figure on the ground. Is she resting after bliss or dead? A fox lying against her head has one paw between her breasts. We see a ravine in the background with a path up a hillside with a procession of human figures. Are they coming towards us for a funeral or moving away, shunning a fallen woman?
A museum by its nature records the past, setting the stage for the present but not telling us what time will bring. Nola, a popular tune by Felix Arndt (1889-1918) was visually paired with George Bellows (1882-1925) Emma at the Piano and The Artist's Wife, No. 2, painted by Guy Pène du Bois (1884-1958). The women in these paintings are vital, alive personalities, not symbolic objects. Arndt's only popular song, Nola, influenced George Gershwin (1898-1936) and his Strike Up the Band and I Got Rhythm were linked to Music, the social realist painting of Philip Evergood (1901-1973), showing us black and white musicians on the same stage. Franz Kline (1910-1962) in Hot Jazz presents a cool, cabaret chanteuse in a gown so tight that it hugs her well developed thighs as if painted on. Ms. Jordan-Anders concluded "Women today ask for more and the world is a better place for it."
There is a DVD of the program available for a tax-deductable $25 donation to Virginia Wesleyan College to support the Lee Jordan-Anders Piano Scholarship. If you wish to see the paintings live, the recorded music is available on an iPod at the Chrysler Museum accompanying a walking tour.

Manhattan Piano Trio at Virginia Wesleyan College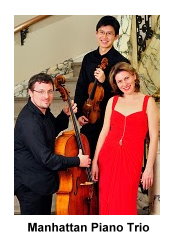 The sparkling, youthful performers: pianist Milana Strezeva, violinist Wayne Lee and Dmitry Kouzov, cello, gave a chamber music recital at VWC on Friday, November 12, 2010 at Hofheimer Theatre. The intimate, uncluttered space is ideal for chamber music, according to Ms. Strezeva. The three pieces played without intermission included Piano Trio in C Major, Hob.XV:27 by Joseph Haydn (1732-1809), Lieder by Franz Schubert (1897-1828) and Maurice Ravel (1875-1937) Piano Trio.
The Manhattan Piano Trio was organized in 2004 and has performed over 300 concerts, quickly becoming one of the most creative, exciting and approachable ensembles touring the United States and beyond. The only change in personnel since their recital at VWC in February 2008 was violinist Wayne Lee who came on board shortly after we heard them, replacing violinist Dmitri Luken. Ms. Strezeva returned in November 2008 as pianist to accompany her mother, Svetlana Strezeva, a Russian-born American soprano in a recital of art songs and opera arias. The Trio plays selections that are personal favorites of theirs and so we were treated to repertory that broadened our live musical experience.
Composed in 1797, the Haydn Piano Trio in sonata form was composed while he was on a London tour and is dedicated to a skilled, young female pianist. This is obvious because of the rich complexity of the piano lines. This charming music has a whimsical allegro first movement and a dramatic, fiery, andante second one. The finale presto movement is a playful gallop that brings this enormously happy piece to a close.
The program notes give us the translated text of four favorite Schubert songs. In An die Musik (To music) the violin is the "voice" while the piano plays Schubert's standard accompaniments. The beautiful sound has a feeling of melancholy just under the surface. In An Sylvia (To Sylvia), with text by Shakespeare (Two Gentlemen of Verona), the cello is the voice praising the virtues of his beloved with its richer, more complex tone – a mature male sound. The violin is the trout in Die Forelle. The sweet tone and glancing touches create the lightness and joy of a natural creature, not troubled by the future threat of an angler. The very gentle, deep, soulful cello voice in Nacht uns Träume (Night and dreams) brought the set to a conclusion.
The blockbuster concluding work, Ravel Piano Trio (1914), was introduced by cellist Dmitry Kouzov who grew up in St. Petersburg, Russia. Ravel was an excellent orchestrator and the sound achieved by these three players was most orchestral. Ravel was a master of tone color using variations in timbre to give ever changing shades. The lightness of the exotic piano opening moves into a furious bowing on the strings. I am impressed with the enormous sense of freedom in the array of tones: shimmering cello, furious fiddling, a sweet, slow pace and a sudden upward thrusting violin pitch. In the second movement pizzicato strings and a great energy give a sense of children at play. A passionate ending and a pause leads us into the third movement. Lower piano notes open alone then are joined by mellow cello. A slight discourse develops before the violin enters to resolve the question soaring to its top notes.
In the last movement, Animé (with spirit, is this French soul music?) all the sonorities of the first three movements return, compacted and quickened with maximal density of sound. The edgy violin, plucked cello and speeding piano are disjointed but compelling and bring us along with loud, rich, heavy music that will not resolve. Then there is a sudden resolution and it ends.
After a second round of applause Ms. Strezeva spoke to us, inviting us to visit with the players in the hall and look over their 3 CDs. The latest one is Chopin/Schumann Trios.

Soprano Billye Brown Youmans and Pianist Charles Woodward
Give Art Song Lovers a Valentine
February 14, 2011, Virginia Wesleyan College, Hofheimer Theater. In an art song evening titled Tell Me the Truth About Love, soprano Billye Brown Youmans and pianist Charles Woodward touched hearts and fed our spirit with a selection of carefully chosen music about romantic love and its opposite. The audience was bathed in the glow of her beautiful voice supported by a pianist who brings nuanced, intelligent musical support to the mood of each song.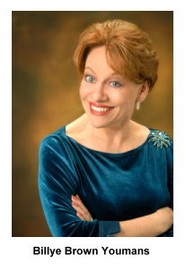 They presented music by Clara and Robert Schumann and Johannes Brahms, who became Clara's loving companion after Robert's death at the age of 46. Brahms came to study music with Robert in September, 1853. Six months later Robert had a nervous collapse and spent the last two years of his life in an asylum. The Schumann's seven children were born between 1840 and when they met Brahms. Fortunately Clara was a popular concert pianist and Brahms, a young man of twenty, willing to help with the children while she earned a living for her sick husband and a house full of children. It boggles our minds to think of all the music written by these three creative minds while attending to the necessities of life. Clara carried the major burden as mother, wife and friend to Brahms and thus had less time to write music than her male companions.
The program opened with three songs by Robert. Widmung (Dedication) is one of his best loved and most familiar songs. A passionate expression of love, the message loosely stated is "You are my soul, my heart and bliss, my pain, the world to me, my heaven and the grave in which I cast my grief." Aufträge (Messages) asks first a tiny wave, than a dove and finally the moon to carry a kiss as a token to his beloved. Stille Tränen (Silent Tears) is rarely performed but absolutely right as an expression of love.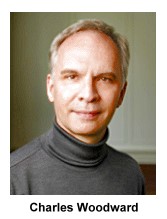 Clara's three songs began with Das Veilchen (Violet), to a text also set by Mozart. It is a gentle tune and Ms. Youmans caressed the words so sweetly, telling the story of a tiny flower that would love to be picked and held close to a shepherdess' heart, only to be stepped on by the clumsy girl and is still ecstatic to have been crushed by her feet. A whimsical text but young love is often like that. Er ist gekommen in Sturm und Regen (He came in storm and rain) is the most exciting of Clara's Opus 12 Lieder with a brilliant piano part brilliantly played by Mr. Woodward. Ms. Youmans sang the lyrical vocal line in contrast to the piano with exuberance and clearly articulated text. The forward movement and dramatic tension are sustained throughout with a sparkling flourish in the piano to end the song. Liebst du um Schönheit (If you love for beauty) was written during the first year of her marriage, with simple melody and rhythms, it is a finely crafted song. The final lines in English translation are "If you love for love, Oh yes, do love me! Love me ever, I'll love you evermore!" Once again our singer owned the character and sang from her heart.
The theme of love continues in three Brahms songs: Botschaft (A Message) that tells of fear of loss; Von Ewiger liebe (Of Eternal Love) and a song new to me, Wie Melodien zieht est mir (It moves like a melody) tells of a sweet memory that eludes being captured in words and calls forth a tear. Subtly varied, the verses are lovely with the last one the most intense, all with a rich accompaniment.
The mood completely changed after intermission. With the stage set with a cafe table, they are transformed into a cabaret singer and her pianist. Songs of love gave way to one of hate! They gave us A Poison Tree from The Red Cockatoo and Other Songs by Benjamin Britten. The text is by William Blake and tells a tale of anger. "I was angry with my friend: I told my wrath, my wrath did end." But she did not tell of her anger to a foe and it grew as a tree, watered by her tears and soft deceitful wiles. The bright fruit that it bore lured the foe into the garden where in the morning he lay outstretched beneath the tree. Blake was a moralist and our singer began the song with a demonic expression on her face, replaced by one of satisfaction at the end. The second Britten song, When you're feeling like expressing your affection (text by W.H. Auden) was up to date circa 1935, suggesting you pick up the phone and ask the operator for your connection and call Paris, Berlin, Moscow or wherever.
Wearing a flapper-era dress with long strings of pearls and beads hanging in asymmetrical rows, Ms. Youmans gave a spoken welcome to their cabaret audience followed by the Cole Porter (1891-1964) I Get a Kick out of You from Anything Goes (1934), I've Got You Under My Skin (Born to Dance 1936) and an old Marilyn Monroe favorite My Heart Belongs to Daddy, originally from a 1938 musical Leave it to Me. Billye falls so naturally into each role and Chuck at the piano catches every nuance of feeling from her.
A set of Irving Berlin songs followed. As Billye pointed out, Blue Skies has been sung by so many singers, including Willie Nelson. She, like Willie, croons her way through it with a scat ending. In contrast to Willie, her voice is sweet and youthful. I love them both! Cheek to Cheek, an old Fred Astaire/Ginger Rogers number from Top Hat came next and to close the program, The Song is Ended. The text says "but the melody lingers on. Take your happiness where you can." The three arrangements were by Dick Hyman. The encore was George and Ira Gershwin's Blah, Blah, Blah. Students handed out Hershey Kisses to everyone.
The program booklet, with quotes from letters by Brahms and the Schumanns had translations and art works giving listeners a souvenir of a lovely evening. I am sorry I was not there to experience the sense of occasion. Chuck and Billye allowed me to attend their dress rehearsal and that had its own sense of occasion – private and personal. Jeanette Epplein brought me a program booklet and shared her description of the event, for which I thank her. I'll give Billye the final word: "I FEEL VERY FORTUNATE to be able to share music with others. I never lose my sense of absolute joy at being able to take music from the printed page and bring it to life."
Note: If you want to hear all of Clara Schumann's songs (29) order online Hyperion CDA 67249 with Susan Gritton , soprano, Stephen Loges, baritone and Eugene Asti, piano. I have enjoyed this CD for several years and am pleased that a neglected composer is now getting a well-performed hearing.
Printer-friendly format
More Virginia Wesleyan

Back to Review Index

Back to Top

Home &nbspCalendar &nbspAnnouncements &nbspIssues &nbspReviews &nbspArticles &nbspContact Us