Soul of the Piano in A: Recital by Lee Jordan-Anders
&nbsp&nbsp&nbsp&nbsp&nbsp That little letter "a" which begins our alphabet got special consideration on the evening of October 6, 2006 in Virginia Wesleyan College's Hofheimer Theatre where Lee Jordan-Anders performed a piano recital on the theme In A. Beside the Steinway was a free-standing eight-foot tall black "A" and all the pieces had A as their tonal center. Also standing next to the piano was a rectangular black box with a dozen brilliant red roses in a white vase. Ms. Jordan-Anders playing was equally brilliant.
&nbsp&nbsp&nbsp&nbsp&nbsp The concert ranged from Sonata in A Major, K. 113 L.345 by Domenico Scarlatti to The Birds of Barclay Street (9-12-01) by Sean Hickey (b.1970) with its closing "a" plucked inside the open piano and pieces by Mozart, Schubert, Brahms and Debussy between, played without intermission and from memory. This most demanding feat of memory and stamina was made more impressive with the subtle nuanced playing demanded by some pieces and raw power in others.
&nbsp&nbsp&nbsp&nbsp&nbsp In January 1787 Mozart made a successful visit to Prague as consultant to the production of his The Marriage of Figaro. He came home in February with a commission for a new opera and called in Da Ponte who suggested Don Giovanni. On March 11, 1787 he wrote Rondo in a minor, KV 511. This poignant, chromatic piece uses twelve tones - all the half steps of scale. In rondo form one section intermittently recurs and by Mozart's day it was often the form used for the last movement of a concerto or sonata. The recurring rondo theme here is followed by contrasting episodes.
&nbsp&nbsp&nbsp&nbsp&nbsp American pianist Charles Rosen includes KV 511 in his list of greatest keyboard pieces by Mozart and in a recent review in the New York Times of a recital by Emmanuel Ax he explained that the piece is a pastoral dance form, a Siciliana, a "sinuously elegiac dance." He finds great despair in the piece. In the variations Mozart tries to break out of the sadness but never does. My description, "poignant" might better read "melancholic." Our pianist played with a crisp, elegant touch.
&nbsp&nbsp&nbsp&nbsp&nbsp By contrast, Franz Schubert's (1797-1828) Sonata in a minor, Op. 42, the thirty-minute centerpiece of the recital, was written some forty years after the Mozart piece. There is a great, new strength and drama in Schubert's sound. The music moves fluidly from minor to major, showing us his mastery in effortlessly manipulating changing tonalities. Since my primary knowledge of Schubert's work is his art songs, at first I missed the human voice in this piece until I realized that the piano is both accompanist and voice.
&nbsp&nbsp&nbsp&nbsp&nbsp In Johannes Brahms' (1833 -1897) five intermezzi in A there is a surprising sameness of mood, though the first and last are in A major and those between are in the minor key. Originally an intermezzo (literally "in the middle") was a lighter piece placed between more serious ones, but Romantic composers created these short, independent pieces. It is pleasant, comfortable, sturdy music and offers the listener great pleasure when so well played.
&nbsp&nbsp&nbsp&nbsp&nbsp Immediately there is a radical change when Claude Debussy's (1862-1918) L'isle joyeuse (1904) begins. This is intriguing music because Debussy is constantly taking you somewhere different. The very next phase may catch you off guard and carry you away on a sonic adventure offering excitement or sensuality, certainly always expanded vistas. He also reminds us that the piano can be a raucous percussion instrument.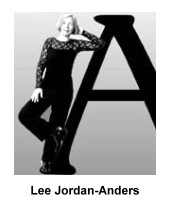 &nbsp&nbsp&nbsp&nbsp&nbsp Ms. Jordan-Anders closed the program with Sean Hickey's The Birds of Barclay Street. Mr. Hickey told the pianist in an email "Those memories are indeed very fresh. I wrote the piece on 9/12/01, my first effort of any kind after witnessing up close and first hand the events of the morning before, here in New York. It all came to me at once, like no other piece of music ever has. Hopefully, none ever will again be inspired by such terrible circumstances." While working on another project, our pianist had corresponded with the composer who is also a manager for Naxos CDs, a classical label. He had invited her to visit his website where she could hear sound clips of his compositions at www.seanhickey.com and readers can do the same. Ms. Jordan-Anders told us "I was immediately drawn to the opening measures and I asked him to send a copy of The Birds of Barclay Street. When it arrived I played it and fell in love with it." There was a problem - the piece ended in G - the string plucked inside the piano. With the composer's blessing she transposed it up a whole tone to A.
&nbsp&nbsp&nbsp&nbsp&nbsp It was a wonderful program! Ms. Jordan-Anders has a talent for programming piano recitals around interesting themes creating a certain coherence in what is often a smorgasbord of separate pieces. I recall another fine recital, Music as Autobiography, in 2004 that explored the lives of Beethoven, Debussy and Schumann as revealed in their compositions. She played the Virginia premiere of Jennifer Margaret Barker's Geenyoch Ballant with the composer sharing with the audience the autobiographical nature of her art.
&nbsp&nbsp&nbsp&nbsp&nbsp Let me close with a quote from the program notes by our pianist: "The genius of each composer lies in his ability to make use of harmonic traditions as merely a starting point for musical statements encompassing a wide variety of emotional expression that resonates long after the final A."

Nature the Gentlest Mother
A Recital at Virginia Wesleyan College
&nbsp&nbsp&nbsp&nbsp&nbsp In the dead of winter (February 5, 2007) we were offered a summer evening in a perfumed French garden. This picture was framed by English and American selections, the first of which was Aaron Copland's (1900-1990) settings of Emily Dickinson's Nature the gentlest mother. Then there was the startling beginning of the declamatory There came a wind like a bugle and Dear March come in! with March being spoken to as a long awaited person. Our singer gave us a dramatic reading that brought Dickinson's words to life.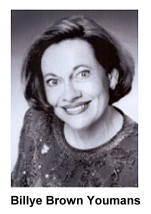 &nbsp&nbsp&nbsp&nbsp&nbsp Billye Brown Youmans was soprano soloist and Lee Jordan-Anders was at the piano. Barbara Chapman on harp rounded out a trio of talented women performers. In conversation Billye told me "Barbara, Lee and I wanted to take our audience on a journey. We chose music depicting various characteristics of nature, metaphorically, depicting the many facets of love." The instrumental works, woven into the recital, supported the nature theme. Following the Copland we heard Birds in Winter (Three Preludes for harp). The contrast in the voices of Junco, Circling Eagle and Snow Geese came through clearly in Barbara's playing of New Mexican composer Michael Mauldin's 1989 work.
&nbsp&nbsp&nbsp&nbsp&nbsp The French mélodie that followed included Charles Loeffler's Les Paons (The peacock), Ernest Chausson's Les Papillons (The butterflies) and Le Colibri (The hummingbird) with its flitting melody. Reynaldo Hahn added to our menagerie with his Le rossignol de lilas (The nightingale among the lilac) with a vocal line that grows in passion and intensity as the story unfolds. La Nymphe de la source (The water nymph), also by Hahn, is a celebration of the life-giving quality of water.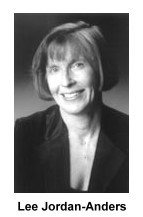 &nbsp&nbsp&nbsp&nbsp&nbsp On solo piano Lee Jordan-Anders played Jardins sous la pluie from Estampes by Claude Debussy with a beautiful clarity - so clear that we could hear the patter of the rain on the garden.
&nbsp&nbsp&nbsp&nbsp&nbsp The mélodie continued in the next set. Though there were explosive vocal moments, Billye Brown Youmans' overall approach to the French songs was gentle and caressing, a subtle, understated intimacy. This led me to ask later if her friend, the composer Jean Berger (1902-2002) had influenced her performance. "My love for French art song repertoire goes back to fond memories of my dear friend Jean Berger. Years ago, I wanted to program one of his cycles Quatre Chants d'Amour on a recital in Alabama. At the time I was also traveling to Nashville, Tennessee, to do some singing and learned that Jean was going to be there as well. We corresponded and he offered to spend some time with me working through the music. It was illuminating. From that point on I saw the interpretation of French mélodie with a new depth. In our correspondence over the years, he would occasionally share his insights on a particular poet. Here is an example from one letter, 'Now, think of my landing on these words. "Logez-moi entre vos bras," (lodge me between your arms), from the pen of the poet, Charles d' Orléans, whom I admire more than any other among the early Renaissance authors of France. You read those words and you drown in memories, you hear tender voices, you walk again, arms around each other's waist, along the shores of Brittany - to where you had come on the bicycle, from Paris! - and all that....' Jean's life experiences encompassed so much and his ability to capture the essence of poetry in music was a special gift. The music of Aaron Copland is similar. His exquisite way of setting text to music makes it eminently singable; though not always simple!"
&nbsp&nbsp&nbsp&nbsp&nbsp Two songs, La Lettre du Jardinier (The Gardiner's Letter) by Marcel Tournier and Fleur jetée by Gabriel Fauré were no less lovely than what had come before. Fleur jetée (Discarded flower) is intense from the first phrase - a protest by an angry, jilted woman and I can see why she saved it until last, because of the enormous burst of energy expended to wholly create the role.
&nbsp&nbsp&nbsp&nbsp&nbsp To frame the second part there were songs by British composers John Dowland (1562-1626), Henry Purcell (1659-1695) and Benjamin Britten (1913-1976). I was especially delighted by these selections as three of the four songs were new to me. The Dowland song, It was a time when silly bees could speak, dating from the reign of Queen Elizabeth I, urges us to accept that we are limited by time. In Purcell's Sweeter than roses there were wonderful trills. Britten's She's Like the Swallow and Bird Scarer's Song are from Eight Folk Songs. His settings have a complex subtlety and some lovely vocal display in the bird scarer's patter.
&nbsp&nbsp&nbsp&nbsp&nbsp More solo piano followed: from Preludes Book II, Lee Jordan-Anders gave a spoken introduction, as did each performer, adding to the intimate communication from stage to audience. She told us of walking her dog early while that same moon that inspired Debussy was there inspiring her performance. Then she accompanied Ms. Youmans in Debussy's Nuit d'etoiles (Starry night).
&nbsp&nbsp&nbsp&nbsp&nbsp The closing set of songs arranged for harp and played by Barbara Chapman included, Fauré's Clair de lune (Moonlight), L'heure exquise (Exquisite hour) and a last song by Henri Duparc (1848-1933). I'll give Billye the final word. "We welcomed nature at the onset of the concert and we ended with luminous depictions of moonlight and stars and finally L'Invitation au voyage with its invitation to, 'love at leisure, to love and to die..., The world falls asleep bathed in warmth and light. There, all is harmony and beauty, luxury, calm and delight.' Ah! Does it get any better?"

Jamestown Revisited in Poetry and Music
&nbsp&nbsp&nbsp&nbsp&nbsp November 6, 2006, Hofheimer Theater at Virginia Wesleyan College. Eastern Virginia Brass opened their recital with Wilke Renwick's Dance, a good-spirited, toe-tapping short piece that included lots of tuba. A concert tuba is smaller than the one used in a marching band with a more refined sound and skillfully played here by James Cipriano. Trumpeters Lawrence Clemens and Robert Spaeth had four instruments, each in its own key. Marlene Ford played horn and Robert Ford, trombone.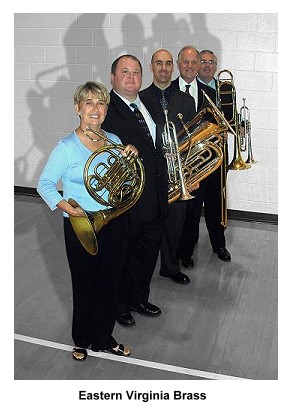 &nbsp&nbsp&nbsp&nbsp&nbsp An adventurer in Europe in the late sixteenth and early seventeenth century might have heard this music. These raucous to rowdy dance pieces were brought to life by these virtuoso players in Elizabethan Consort Music edited by Raymond Mase. The good time continued with Leonard Bernstein's Dance Suite, G.W.E. Friederich's American Brass Band Journal and Enchanted Forest by J.Mark Scearce that included Song of the Water Nymph. Two muted trumpets are soon joined by the tuba. Other instruments join in and create a mysterious language with an unhappy feeling. This exciting, venturesome music, so well played, was a great pleasure to hear. The program, divided by intermission, offered a very different challenge in the second half.
&nbsp&nbsp&nbsp&nbsp&nbsp After intermission we had several works of Americana. The first was a special project commissioned by the Eastern Virginia Brass commemorating the landing at Jamestown and will be performed several times this spring and summer. The music of Threshold to America is by Leigh Baxter, a Virginia composer and college teacher. The text is by Robert P. Arthur, an award-winning poet, novelist, playwright and critic. His book of poetry Hymn to the Chesapeake was a best seller in 1996 and was later made into a musical.
&nbsp&nbsp&nbsp&nbsp&nbsp The text for each of the six sections was read by Mr. Arthur and the music followed. A musical fanfare accentuated "The Royal Charter" as the king gave permission for this commercial adventure to begin. "The Crossing" is about waves and wind and homage to God upon arrival. It is only in "Pocahontas" that the poetry captures the personal, showing us a ten year old Indian girl in the unspoiled beauty of her natural world. There was urgency in the poet's voice as he gave us a few lines accented by Marlene Ford's French horn. A dialogue develops between poet and musician until the child sees the ship's mast through the mist.
&nbsp&nbsp&nbsp&nbsp&nbsp This was followed without pause by "The Starving Time." The lengthy musical interlude gave expression to the anguish and disillusionment of the colonists as they suffer privation and even cannibalism. The trumpets are muted, and there is no joy, only short disruptive bursts of sound adding drama to the spoken lines.
&nbsp&nbsp&nbsp&nbsp&nbsp In "De La Ware's Arrival" the ship from England finally comes. The music of a lone trumpet takes up a lament of relief - a release from circumstances too horrible to contemplate until now. In anticipation of the inevitability of America's future a delirious dance tune breaks out. But the mirth is haunted by memories of their experience in this most angular tonal music.
&nbsp&nbsp&nbsp&nbsp&nbsp Excerpts from James Hewitt's The Battle of Trenton have a traditional tuneful music harking back to the Revolutionary War days in America. Yankee Doodle, Quick-Step for the Band from Benjamin Carr's Federal with its three variations followed by John Philip Sousa's The Belle of Chicago brought the program to a close.
&nbsp&nbsp&nbsp&nbsp&nbsp The mood of the evening was very warm and homey, a reflection of Marlene Ford whose energy brings the group together. Personally I found the concert brass pieces of the first half to be intellectually and emotionally satisfying. I suspect using an actor would add clarity and drama to the poetry reading of the Jamestown piece. I would like to hear it again in one of its future scheduled performances. After they attend, I hope listeners will share their experiences with our readers.
Printer-friendly format
More Virginia Wesleyan

Back to Review Index

Back to Top

Home &nbspCalendar &nbspAnnouncements &nbspIssues &nbspReviews &nbspArticles &nbspContact Us