Laurie Baefsky and Lee Jordan-Anders in a Recital of French Music
It was a late summer treat for the spirit, a sort of cool breeze and a glass of lemonade on the porch when Virginia Wesleyan College Concert Series opened with a chamber recital of flute and piano on Monday, September 10, 2007 at Hofheimer Theater. The opening piece was by Gabriel Fauré (1845-1924) Fantasie, Op. 79. Lee Jordan-Anders's firm touch on the piano anchored the cool breeze sound of Laurie Baefsky's flute. The harmonic adventurousness, delicacy and elegance of the piece were captured in the performance.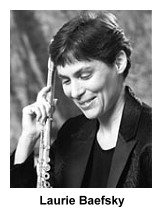 As they played Concert Royal No. 4 by François Couperin (1668-1733) I became aware of how Louis XIV, Couperin's patron, would have approved of this music and Ms. Baefsky's pumps. With a medium heel that flared-out wide they were covered in a gold paisley with red, ivory and brown. The swirling ornamentation of the fabric seemed to echo the ornamentation of the music. The piece was likely composed as a suite for harpsichord since Couperin was a virtuoso on the instrument. Ms. Anders moved to the small harpsichord where we heard a unique performance because ornamentation for flute and harpsichord is the player's choice each time it is played. The Prélude movement is followed by an Allemande that dances with a twist in the musical line, a flourish to end the movement. The Courante á l'Italienne movement had a stately, easy pace and was followed by a spirited Sarabande.
We were entertained by a three movement Sonatine by Henri Dutilleux (b.1916), written to be played without pause. Dutilleux is not yet well known in America though he is regarded in Europe as the natural successor to Ravel and Roussel. To my ear there was a sad undertone in this very French piece composed during World War II. The joy in the third movement does overcome the melancholy in its virtuosic flight of the Imperial bee ending in a blaze of lovely sound.
Two solo flute pieces, Piece pour flûte seule by Jacques Ibert (1890-1962) with a light, witty style was not as concisely written as Claude Debussy's Syrinx, a three-minute restless, haunting, single line of lightness and grace. Ms. Baefsky's straight-forward approach serves this music well since Debussy's intention was to escape "Bayreuth's solemn and weighty heavings." (CD liner notes by Robert Maycock, 1981). Originally written as incidental music for a stage play, Pan uses his dying breath to play a tune on the reed pipes because a nymph has broken his heart.
Ms. Jordan-Anders reprised Debussy's L'isle joyeuse from her very successful CD In A (2006). The story is of Pilgrims called together to dance upon their arrival on the Isle of Joy. Once again a powerful experience well worth repeating.
Our performers joined their instrumental voices to end the program in Francis Poulenc's (1899-1963) Sonata for flute and piano (1957). There is a sharp wit and brittle glitter in much of his chamber music. Written late in his life, the sonatas for wind instruments were among his last significant works. Like others in a series, he dedicates it to a patron, an American woman. There is melancholy in the limpid flute tone. The second movement Cantilena reminds us that he was a composer of song, though here the voice is the flute. The final Presto giocoso movement opens with a bold cry by the flute. Soon joined by the piano, the two race along joyously as they return to the opening theme scattering stardust as they go.
From 1989-2005 Laurie played piccolo and flute as a member of the Virginia Symphony. In the summer of 2005 she moved with her husband to Logan, Utah. Twenty-first century technology has allowed her to remain Director of Development Research for the Virginia Arts Festival from her mountain home. In Utah she has learned to ski, mountain bike and raise chickens. She sometimes plays as substitute flutist for the Utah Symphony, is co-founder of an ensemble for flute and Celtic harp and is busy with other musical projects. She returns to play at VWC where she was a faculty member from 1986 to 2001.
Pianist Lee Jordan-Anders is a great favorite of ours. She is Batten Professor of Music and Artist-in-Residence at VWC. Her performances often highlight the connection between music and the visual arts. Her most recent project, Picture This! A Series of Musical Canvases Framed by Fine Artworks from the Chrysler Museum of Art, is a CD and audio tour that pairs musical selections with works from the museum's collection.

ETA-3 @ Virginia Wesleyan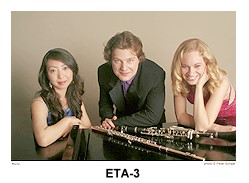 Three very talented, charming musicians, who are studying at Juilliard School of Music, have come together to create a most unique trio called ETA-3. On Monday, September 17, 2007 they wowed the audience in the Hofheimer Theater as the opening program of the Virginia Wesleyan College Concert Series. Named after a Nebula in our galaxy, E is for Emily Thomas, flute; T is for Tomoko Nakayama, piano; and A is for Alexey Gorokholinsky, clarinet. For the musically savvy, the first question that comes to mind is "what do they play?" There is very little repertory for flute, clarinet and piano, but that is changing.
A fantastically creative piece of music, Fantasy in Blues was written for ETA-3 by a friend, Cristina Spinci (b.1985) who is also at Juilliard. It is a jazzy piece with lots of syncopation. The players moved their bodies in rhythm. The flutist, in a hot-pink dress, moved to the calm introductory solo piano punctuated by chord clusters. The clarinet joins in a hoe-down fragmented sort of Gollywogg's Cakewalk that goes over a cliff and lands on the flute line. Then the trio turns all moody with a French-sounding tinkle on treble keys to end.
The program opened with Entr'acte by Cesare Pugni (1802-1870) taken from his ballet The Little Hump-back Horse. It is based on a familiar Russian folk tale. An Italian, Pugni mostly lived in Russia and composed ballets. The clarinetist opens the piece, walking about as he plays, then there is a flute solo section that becomes a dialogue when the clarinet rejoins. The piano joins in to make it a trio. Pugni's success, says the Grove Dictionary, was because of his brio and the imaginative fancy and expressive quality of his music. It was a natural fit for these young virtuosos.
Camille Saint-Saëns' (1835-1921) Tarantella is a dance about who will be the last one standing at the end of this vigorous, showy piece. The trio was still standing at the climax. Claude Debussy's (1862-1918) Prelude to The Afternoon of a Faun written for orchestra was arranged by the trio with the assistance of Michael Webster. Listening, I relaxed completely as this languorous piece unfolded.
Three Pieces for Clarinet by Igor Stravinsky (1882-1971) was performed by Russian born Alexey Gorokholinsky who played both alto and soprano clarinets by turn in this piece based on an old Russian folksong. Aria by Jacques Ibert (1890-1962) who saw music as an expression of an interior adventure, was a relaxed little piece for trio. There was an even-tempered balance and harmony among the instrumental voices. A little sadness crept in near the end as if a dark cloud hovered.
Another modern piece, Zoom Tube by Ian Clark (b.1946) was played solo by flutist Emily Thomas, who was born in Huntsville, Alabama. The flute sound included jazz, funk and Latin American rhythms with an extended vocal technique voiced through the body of the instrument and a shouted out "Wow." It sounds bizarre on paper but was an exotic, exhilarating experience.
They closed the program with Pablo Sarasate's Carmen Fantasy (based on Bizet's Carmen) and arranged by ETA-3 (2006). The long solo piano introduction played by Ms. Nakayama, born in Kyoto, was the orchestral voice. Carmen's arias are expressed in flute, other characters by clarinet. Duets were best of all in this showpiece of greatest hits from the opera.
The trio was recognized by Juilliard as one of three prominent emerging chamber music groups of 2006, leading to their debut at Alice Tully Hall, Juilliard's performance space at New York's Lincoln Center.
ETA-3 will be in Williamsburg at William and Mary's Ewell Recital Hall on March 28, 2008 at 8:00 P.M. Don't miss them! Their manager, Reggie Bahl is available to schedule or discuss an engagement at www.eta3.org or call 1-212-721-1343.

Manhattan Piano Trio Gives Brilliant Concert
at Virginia Wesleyan College
Norfolk, Virginia, February 4, 2008. The Manhattan Piano Trio's program progresses from the less complex - a piano solo by Liszt to a Ravel Trio that uses the full resources of the three instruments played by these youthful, polished performers. The finale is almost orchestral with the 5/4 and 7/4 tempo of Basque music.
The concert began as pianist Milana Strezeva came on stage alone and played Fran Liszt's (1811-1886) Un Sospiro (A Sigh). There is a French flavor in this flowing, melodious piano solo. It does have its dramatic moments but is basically sensual music without showy pianism. Ms. Strezeva was joined on stage by Dmitry Kouzov with his cello and together they played Robert Schumann's (1810-1856) Adagio and Allegro. The first movement was quite beautiful, very romantic and the second was all fire and fury. In conversation their manager Reggie Bahl commented that it was like Schumann's life - calm and beautiful early on and crazy later.
In the third piece we heard the trio for the first time with Dmitry Luken playing violin in Paul Juon's (1872-1940) Trio - Miniaturen. In the first movement, Reverie, the violin played so softly it sounded like breath. The Humoreske movement with its folk-like Eastern European sound suggested a drum in the cello with a fast dramatic conclusion. The Elegie movement opened with solo piano, later joined by violin and still later, cello. It flowed by sweetly but left no deep impression while the Danse phantastique movement was emotionally grand with plucked strings and a sound that reminded me of popular music of the 1930's. Composer Juon was born in Moscow to Swiss and German parents. His musical education was both in Russia and Germany. At age twenty-five he settled in Berlin and wrote Romantic, sentimental concert music and parlor pieces growing out of his German-Slavonic heritage.
The announced one-hour program without intermission changed when a string broke early in the first section of Romanian Folk Dances for violin and piano by Bela Bartok (1881-1945). Bartok studied and collected folk music and he felt that Romanian music was the most authentic, uncorrupted by outside influences. The first movement was moody, then dramatic with a pizzicato string measure and a thump on the wooden body. Violinist Dmitry Luken wryly observed "now you have an intermission." After replacing the string they began again. The second dance had a dampened, unearthly violin sound and the third was an all-stops-out hoedown romp.
The last piece was Trio in A minor by Maurice Ravel (1875-1937). Before this, our recording by the Beaux Arts Trio (Phillips 411 141-2) seemed pleasant and impressionistic but never made much of an impact on me. Performed live by these vital, young virtuosi I heard it in a new way. Ravel has created a stunning, coloristic piece, packed with so many ideas that I was overwhelmed by the end. In the first movement there was the cool, delicate, tentative, even moody French sound, suddenly interrupted by a very dramatic section, only to return to the earlier quiet, lovely, sad beginning. There was a second dramatic section before the movement was over. Pantoum (the second movement) is perky, with the bows dancing on the strings when they are not being plucked, accompanied by a firm piano line. A headlong rush of notes builds tension that pulls you into the whirl of sound. Passacaille opens with a slow, determined pace in the lower left hand piano which is joined by a stately cello melody. The violin enters, creating a bittersweet intensity that seems to flow away, back to the simplicity of the opening piano, then solo cello and later both together into a very quiet ending. Suddenly, as the final movement begins the mood shifts into a sparkling, floating sound but with intensity. Very low piano notes are lightly enhanced by the violin. Things heat-up and the sound is passionate and rich - a shifting kaleidoscope of colors created by all three players together with intensity building. Languor gives way to speed and it is over. When Ms. Strezeva introduced the piece she called it "the best trio ever written." Who am I to dispute her point, especially when it is played with such crisp passion? Visit the ensemble's website at www.manhattanpianotrio.com
MPT's November 10, 2010 VWC Concert

Printer-friendly Format

More Virginia Wesleyan
Back to Review Index

Back to Top

Home &nbspCalendar &nbspAnnouncements &nbspIssues &nbspReviews &nbspArticles &nbspContact Us